2012 Olympic torch to stop at Reading on way to Games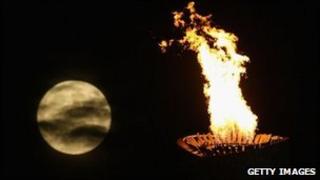 Reading will be one of the places to host the Olympic torch on its tour around the country in the lead up to the 2012 Games.
The relay will involve 8,000 torch bearers carrying the flame on a 70-day journey starting on 19 May 2012.
It will stop in Reading on 10 July after Oxford and before Salisbury. The exact route will be announced in 2012.
The leader of Reading Borough Council Andrew Cumpsty said it would be a "once in a lifetime experience".
'Hugely historic'
Mr Cumpsty said that Reading had been the first local authority to apply to the Olympic authority to be on the torch relay route.
"As a result of that we will have the flame for two days in Reading, a fortnight before the Olympics," he said.
"It will be a hugely historic moment for our nation."
The council will be encouraging as many young people from Reading to be part of the "huge celebration" as the 2012 Olympic torch passes through the town.
There will be an evening event to which the public will be invited.
Mr Cumpsty said: "Reading will be on a world stage, as we rightly should be. We're the 10th largest economy in our country.
"This is yet another reason why we should be a city."
Further details of the torch relay will be released later in the year and in early 2012.