Julia Pemberton's family spent £50k in legal fees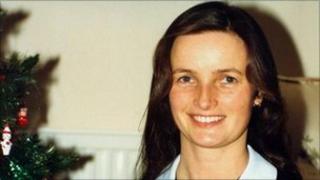 The brother of Julia Pemberton has revealed her family spent £50,000 on legal fees alone following her death.
Mrs Pemberton was murdered by her estranged husband Alan Pemberton in 2003 along with her teenage son at their home in Hermitage, Berkshire.
Her brother Frank Mullane said the family spent five years carrying out an independent investigation.
They were interviewed as part of a report into the financial impact murders have on bereaved families.
It was carried out by the Commissioner for Victims and Witnesses, Louise Casey, and found the average cost was £40,000.
Basic facts
Mr Mullane said families could end up spending thousands just to find out basic facts about what had happened when their relatives had been murdered.
"Following the inquest into my sister's death, we were left with more questions than answers," he said.
"If the failures of these agencies who are set up to protect us are not investigated, what is to stop it happening again?
"I hear from families time and time again 'what happened?'."
Mr Mullane said that perpetrators of crimes were given greater access to documents, such as transcripts of trials, than the families of murder victims.
He said his family had spent at least £10,000 on travel costs to investigate his sister's death and in lobbying for changes to domestic violence legislation.
The family also had to pay for the cost of cleaning up of his sister's home following her murder and for the cost of her funeral.
However, Mr Mullane's employer paid for him and his family to have limited counselling for the trauma they experienced.
He said he had also given up his job in order to set up the charity, Advocacy After Fatal Domestic Abuse, (AAFDA) which helps bereaved families of murder and manslaughter victims by listening and providing practical help.
In 2008 Mrs Pemberton's family received an apology from Thames Valley Police saying the family had been let down by "standards of basic policing".
The subsequent Pemberton Homicide Review formed the pilot for new domestic violence legislation which became law in April.