Family photograph marks Royal Windsor Horse Show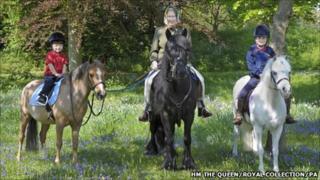 A photograph of the Queen out riding with her two youngest grandchildren has been released to mark the start of the Royal Windsor Horse Show.
The touching image, which shows the family amid the bluebells of Windsor Great Park, was taken on Easter Monday.
Her Majesty was pictured on her black pony in-between three-year-old Viscount Severn and seven-year-old Lady Louise Windsor on their smaller ponies.
They are the children of the Earl and Countess of Wessex.
Both children were dutifully wearing their riding hats but the Queen, as she often does, was wearing her familiar headscarf instead.
The 85-year-old monarch, who is clutching a riding crop, is holding a leading rein for James's pony but Lady Louise sits proudly in charge of her own pony.
Lady Louise was one of the bridesmaids at the Duke and Duchess of Cambridge's wedding in April.
The Royal Windsor Horse Show, which runs until Sunday, and attracts thousands of equestrian enthusiasts, takes place in the beautiful private grounds of Windsor Castle.
Count Robert Orssich and Mr Geoffrey Cross founded the Royal Windsor Horse Show in 1943.