Beatle John Lennon's time at Tittenhurst Park in Ascot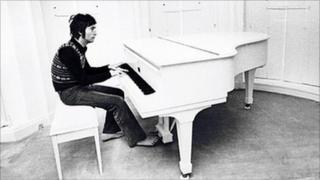 With one of the most famous songs of all time recorded there, as well as a landmark album and two films, it is surprising that John Lennon only lived at Tittenhurst Park in Ascot for two years.
The picture of Lennon singing Imagine in a white room on a white piano is one of the most famous images of the Beatles star.
And his second solo album of the same name, recorded in a home-built studio within the Ascot mansion's grounds, features the controversial and vitriolic How Do You Sleep, supposedly aimed at Paul McCartney.
This says something of the contrasting mood at Tittenhurst Park, which Lennon and Yoko Ono bought in May 1969 for £150,000.
Microphones and recording equipment from Lennon's studio at Tittenhurst are due to go on sale in on online auction on Wednesday.
On the one hand the home represented a happy and relaxed period in Liverpool-born Lennon's life.
Lennon had reportedly bought Tittenhurst Park to escape the hustle and bustle of London.
"By the end of the 60s I think John and Yoko wanted to be somewhere more secluded," said Keith Badman, who has published five books on The Beatles.
The Georgian manor house, in London Road, Sunningdale, seemed the perfect getaway.
"It's a wonderful house," said Beatles expert Richard Porter, who owns a Beatles coffee shop in St John's Wood, London. "It was his first real home with Yoko."
'Crazy fans'
Mr Badman said that Gimme Some Truth, one of two films made on the recording of the Imagine album, shows how Lennon nurtured an informal lifestyle at Ascot.
"The sessions were filmed and they looked wonderful, with all his friends dropping in to Ascot and all these crazy fans turning up at the door," he said.
"John would invite them in for breakfast."
Ono, narrating the film, said of the album: "It was Ascot, England, early summer and we kind of just said 'OK why not? Let's do it', and we invited some friends, we had breakfast and we'd just go right into the studio.
"It was really like home-cooking, and that's how Imagine was made."
The couple had a large lake dug out with an island at its centre.
In the Jealous Guy video Julian Lennon, Lennon's then infant son by estranged first wife Cynthia, is enjoying time in a rowing boat with Lennon and Ono on the lake.
Mr Badman also said that George Harrison's Hare Krishna friends came round to help Lennon renovate the place.
It is unclear whether the house was already painted white on the outside, but certainly most of the rooms, according to Mr Badman, were white - in keeping with Lennon and Ono's 'white period'.
"White was prevalent in John's life at the time - the White Album from 1968 and on the Abbey Road cover you see John dressed in white as they cross the zebra crossing," he said.
Beatles break-up
On the other hand Lennon's time at Tittenhurst Park was turbulent.
"When he moved to Ascot it was the break-up of the Beatles at the time," said Mr Badman.
"Law suits were flying back and forth, so he wasn't as happy as he'd like to have been."
How Do You Sleep, an apparent attack on McCartney suing his band mates in December 1970, came after Lennon announced in September 1969 that he was quitting The Beatles.
Mr Portman said that The Beatles had their last ever photo session in the grounds of Tittenhurst Park on 22 August 1969.
During this period of upheaval Ono and Lennon were also travelling to search for Ono's estranged daughter Kyoko.
In late August 1971 he left England for America and never returned.
Lennon handed over the estate to Ringo Starr in 1973 to settle a debt with his former band mate.
Mr Badman said Starr's builders discovered many of John's belongings that he had left behind.
"There were a lot of his clothes, notes and lots of personal belongings," he said. "Apparently Ringo told the builders to put them in the ground and burn them."