Royal family to set up vineyard in Windsor Great Park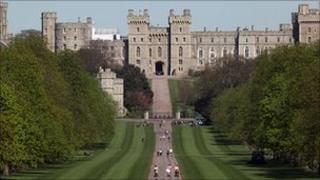 The royal family is setting up a vineyard in Windsor Great Park to produce English wine.
More than 16,500 vines bearing champagne grape varieties will be planted in 3 hectares (7.4 acres) of the park, owned by the Crown Estate.
Laithwaites Wine, tenant farmers on the royal estates, said they were "extremely proud to be invited by the Royal Farms" to work on the project.
The first harvest is predicted to be in about three years' time.
In a private seeding event, the wine company will plant chardonnay, pinot noir and pinot meunier varieties on an unconfirmed date next week.
'Coup' for country
Michael Roberts, chairman of English Wine Producers, said the royal family's interest was a coup for the country's vineyard owners.
"This is the sincerest form of accolade to a whole industry.
"It's interesting to see how enthusiastic they must be to actually allow a small part of Windsor Great Park to be planted," he said.
Laithwaites spokesman Simon McMurtrie added: "As champions of English wine we are delighted to do what we can to help boost its production and popularity in this country at this time."
A Windsor Castle spokeswoman confirmed the vines were being planted but said no further comment would be given as it was a "private estate" matter.
English wine and sparkling wine was served at the royal wedding on 29 April.