Archbishop of Canterbury to visit Diocese of Oxford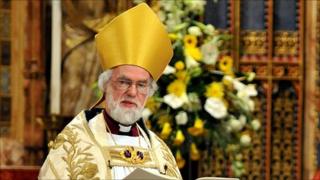 The Archbishop of Canterbury will visit Buckinghamshire, Oxfordshire and Berkshire for four days on Friday.
Dr Rowan Williams' schedule includes visits to Reading and High Wycombe universities and a trip to Christ Church in Oxford where he was a canon.
An exhibition on the King James Bible in Oxford will end his visit on Monday.
He said the Diocese of Oxford, made up of the three counties, "has always been one of the most varied and creative in the Church of England".
On Friday the Archbishop will visit the Madejski Academy in Reading to speak on 'Faith and Society' to sixth form students from across Berkshire before giving a lecture at the University Of Reading.
On Saturday a tree will be planted in the churchyard of St Mary's in Banbury to commemorate the Archbishop's visit.
On Sunday the Archbishop will visit Bicester and bless the site of the new Emmanuel Church in Bure Park.
He will also visit Christ Church Cathedral in Oxford where around 150 students are training for ordination.
On Monday he will visit High Wycombe University for a private visit with leaders of other faiths.
His visit will end at the Bodleian Library in Oxford to view an exhibition about the making of the King James Bible.
A Diocese of Oxford spokeswoman said Dr Williams calls the Diocese "varied and creative" owing to its geographical and social variations from small Cotswold churches to main university towns.
This is the first time since 1999 that an Archbishop of Canterbury has formally visited the Diocese of Oxford.