EDL Dorset protest passes off peacefully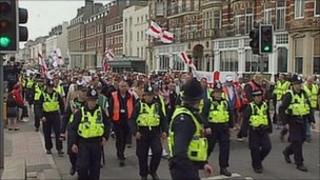 A protest by the English Defence League (EDL) in Dorset has passed off peacefully with no arrests, police have said.
Officers estimated about 300 EDL demonstrators had gathered on Weymouth's esplanade while about 50 counter-protestors were also present.
The protest lasted for about 10 minutes before the crowd dispersed, a Dorset Police spokesman said.
A number of road closures put in place by police have now been lifted.
Counter-protest organisers have disputed the police figures and said there were about 250 anti-EDL demonstrators compared to about 200 EDL protestors.