Hydro-power plan for Berkshire and Oxfordshire Thames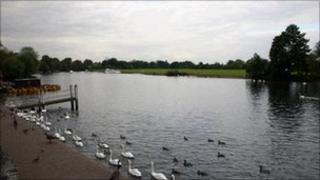 Community groups and developers have been invited to set up hydro-power schemes on River Thames weirs.
The Environment Agency (EA) has teamed up with Windsor and Maidenhead council in Berkshire to look for schemes at Marlow, Boveney and Boulters weirs.
Work is already under way to generate electricity at Osney and Goring weirs in Oxfordshire.
Interested parties have until 21 July to come forward. Preferred developers will be selected by the end of August.
Weirs are used to control water levels for navigation and flood risk purposes but could provide energy opportunities, the EA said.
'Selling energy back'
Hydro-power works by using flowing water to drive turbines to generate electricity.
Barry Russell, EA hydro-power project lead, said: "This is a great opportunity for developers and community groups to get involved in generating clean, green electricity in an environmentally sustainable way.
"Weirs are an untapped source of energy and the Environment Agency is keen to ensure hydro-power fulfils its potential as a small but useful renewable energy source, whilst protecting the environment."
Tim Slaney, Windsor and Maidenhead council's head of planning, said: "By harnessing the power of the Thames the borough would benefit from environmentally-friendly renewable energy sources and resulting lower carbon emissions.
"[There is] the potential added bonus of selling surplus energy back to the National Grid and reducing energy bills."