Newbury Racecourse makes loss but increases turnover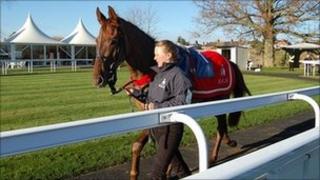 Despite posting an operating loss of £124,000 in 2010-11, Newbury Racecourse is upbeat about the future.
Hospitality bookings at the racecourse are up 21% and turnover rose 16% to £11.8m.
Plans also remain in place to develop the racecourse, creating 1,500 residential units and a hotel.
Joint managing director Sarah Hordern said the Berkshire racecourse was trying to "diversify and broaden its appeal".
Newbury Racecourse recently announced it was launching itself as a standalone concert venue as well as a racing venue.
'Work harder'
The first concert since the announcement will be headlined by Rod Stewart in May.
Mrs Hordern said: "We had 30,000 people here for a Westlife concert last year."
Speaking about the increase in hospitality bookings, she said: "In 2009, companies did cut back on their hospitality, but people need to entertain clients.
"In a recession you have to work even harder."
Harry Dunlop, a racehorse trainer at Windsor Home Stables in Lambourn, said it was "great" that turnover had increased at Newbury Racecourse.
"There's definitely been a pinch," he said.