Kate Middleton's home village promises 'extravaganza'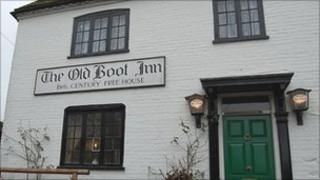 Party planners in Kate Middleton's home village have promised an "extravaganza" ahead of the royal wedding.
Final preparations are under way in Bucklebury, which will host a wedding breakfast in the hamlet of Chapel Row where the Middletons live.
The farm park will host local bands, a crown and tiara contest and ferret racing while a two-and-a-half feet high cake will be cut up for revellers.
Prince William, 28, and Kate, 29, will marry at Westminster Abbey on 29 April.
In the evening, the Bladebone pub will host a "knights and maidens" themed party staged by the Knights of the Bucklebury round table, while the Cottage Inn is holding a fireworks display.
'Village is buzzing'
John Haley, owner of the Old Boot Inn in nearby Stanford Dingley - thought to be one of Kate's favourite pubs - will be rushing back from the wedding at Westminster Abbey to host his own wedding celebration disco and barbecue.
The Reverend Julian Gadsby said celebrations were also planned for the parish church.
He said the bell ringers were planning a full peal - set to last about three hours - called Bucklebury Delight.
There will also be a special service celebrating marriage on the Sunday after the big day.
Children at Bucklebury Primary School are having a special street party in their playground the day before the wedding.
'Wonderful celebration'
Head teacher Pippa Rowe said: "We wanted to celebrate the royal wedding as it is an important event in the life of the children, and of course the country.
"Holding a street party on the playground seemed an obvious traditional choice."
With other parties being planned across Bucklebury, the whole area is buzzing with anticipation, according to parish council chairman Wynne Frankum.
"I think a lot of people are very excited about the wedding, it's a once in a lifetime experience," she said.
"Everyone is gearing up for the big day and it's going to be a wonderful celebration."