Kate Middleton's Berkshire childhood home for sale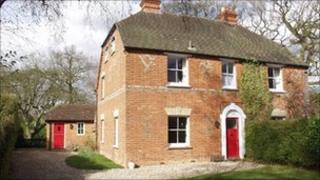 Fans of royalty will be able to purchase the ultimate souvenir in June, when Kate Middleton's childhood home goes up for auction.
The four-bedroom house in Bradfield, Berkshire, has a guide price of £495,000.
It was bought by her parents, Michael and Carole, in 1979, when they worked for British Airways.
The Middletons began their mail order business, Party Pieces, in 1987 while living in the village.
The family sold the house in 1995, having made enough money from Party Pieces to move to a larger house and send their children to Marlborough College.
Dudley Singleton, the auctioneer handling the sale in Pangbourne on 3 June, said: "There is a lot of interest in the house due to its royal connections.
"It was the house Kate Middleton grew up in.
"The outbuilding in the rear garden to West View is still in existence - it was converted by Mike and Carol Middleton and used as an office."