Windsor statue chosen for Queen's diamond jubilee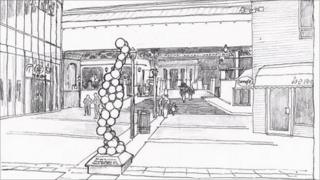 Designs for a statue to honour the Queen in the 60th year of her reign have been chosen for Windsor.
Caroline Basra, 14, won a competition to create a sculpture for the diamond jubilee celebrations in 2012.
The monument will be displayed close to Windsor Castle in King Edward's Court and has been described as "very imaginative", by judges.
It is hoped the new statue will become as popular as the jubilee statue of Queen Victoria in Castle Hill.
Public donations
The committee behind the tribute also hope the Queen will inaugurate the statue when it is finished.
Speaking at the reception, Andrew Melville, Chairman of the tribute committee said: "We were looking for something original, innovative and new, and I think Caroline has come up with a very imaginative idea.
"The next step is to create the tribute with the help of an artist or sculptor, to underline the special connection between Windsor and the Queen."
The money for the statue will be raised by fundraising and public donations. It is planned to be ready before mid-2012, and the influx of visitors to the Olympic rowing competition at Dorney Lake.