Reading Abbey ruins £8m revamp plans unveiled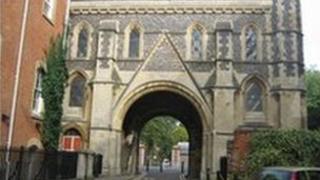 An £8m project that will involve repairing the ancient ruins of Reading Abbey has been unveiled.
Reading council wants to create an Abbey Quarter cultural area aimed at bringing more visitors to the area.
It would see improvements and repairs to historic sites, including the abbey which has been closed for two years because of safety fears.
The council has identified £850,000 and will make a lottery funding bid for the remaining cost of the project.
Further discussions will be held by the cabinet on the plans at a meeting on 11 April.
An initial bid for lottery funding has to be submitted in November, with the organisation inviting more detailed plans on successful bids in February 2012.
If successful, work could start on site in the summer of 2013.
The plans would also see the ground floor of Reading Museum redeveloped with more Abbey artefacts and improved signage.
Altar burial
Councillor Andrew Cumpsty, leader of Reading council, said: "This represents an exciting opportunity to improve the area surrounding the Abbey Ruins and create a vibrant, new Abbey Quarter.
"As well as helping to protect and conserve an important part of Reading's rich past, this project has the potential to make a real difference to the town centre, creating an even more welcoming and inviting environment for people to visit, and contributing to our aspiration to drive up civic pride."
Reading Abbey was founded by King Henry I in 1121, because of its location close to the Thames and the Kennet.
When Henry I died in Lyons-la-Forêt, Normandy in 1135 his body was returned to Reading, and was buried in the front of the altar of the then incomplete abbey.