Legoland Windsor prepares mini royal wedding attraction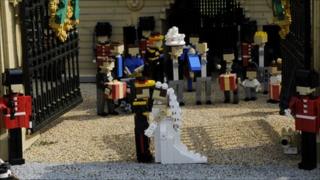 A small scale version of Prince William and Kate Middleton's big day has been created in Lego.
Visitors will be able to see Lego versions of the happy couple embracing in front of a crowd of well-wishers at Legoland in Windsor from Friday.
They will be surrounded by Lego versions of guests including David and Victoria Beckham as well as mini corgis, photographers and guardsmen.
The tribute took model makers more than 30 hours to make using 10,000 bricks.
The guest list has been faithfully followed by Lego model makers and figures will be added as guests are announced.
Birthday celebrations
The Queen and other members of the Royal Family will also be shown watching from the balcony.
Each of the 10cm-high figures took about an hour to put together out of 30 to 40 bricks.
The royal residence features 160,000 bricks and was built on a 1:50 scale over 550 hours.
It sits in the Miniland London area of Legoland which features some of the capital's best known landmarks from the Millennium Bridge to the Gherkin.
Sue Kemp, divisional director of Legoland Windsor, said the model royal wedding formed part of Legoland's birthday celebrations.
"We're proud to announce that it's our 15th birthday this year and what better way to celebrate it than to pay homage to such an amazing royal occasion," she said.
"After all, we're based in Windsor which is well known for its royal connections."