Reading scraps free peak bus fares for disabled people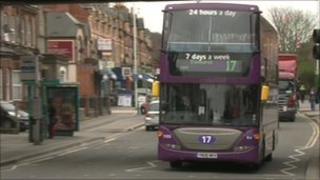 Older and disabled people who until now enjoyed free travel around Reading at all times, will be unable to travel free at peak times from today.
The change will bring the Berkshire town in line with the national scheme.
In most of the UK, people are only allowed to use their concessionary bus passes after 0930 BST.
The council has been criticised for only sending out letters informing people of the change days before it was due to take place.
However, the council said that the information had been displayed on bus stops.
In a statement, Reading Borough Council said: "There is also a national provision for travel for people in receipt of disability living allowance to cover cost of travel outside or in addition to the Concessionary Fares Scheme, currently £18.95 per week.
"This is expected to cover any travel before 0930 BST. In addition, those that have any difficulties will be able to use their Reading passes on Readibus before 0930 BST."
The changes will affect all people aged over 60 in Reading as well as 3,500 disabled people and about 1,500 of their travel companions, who will not be allowed to use their concessionary bus passes before 0930 BST.
Not aware
James Freeman, of Reading Buses, said they would get less money from Reading Borough Council as concessionary fares at peak times were scrapped.
"Overall concessionary travellers account for about a third of all travellers," he said. "For a lot of people they're not travelling before 0930 BST but for some people it will affect them.
"Some of our passengers aged 60 to 65 are going to work, so we assume they will continue to go to work and pay to use the bus," he said.
Out and about in Reading, BBC Berkshire reporter Claire Gibbard found some passengers who had not been aware of the changes.
One man said: "I went down to the bus stop, tried to get on. Denied. I was told I couldn't get a but until 930 BST."
Another couple waiting at the bus stop said they were not happy about the changes.
"I do think as most people are at work by 0900 BST, they could let us on at 0900 BST. That bus that went past was half empty," said the woman.