Bracknell's South Hill Park centre has funding cut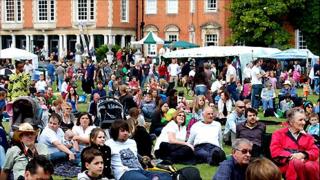 The chief executive of Berkshire's South Hill Park said he was "shocked" it lost its Arts Council funding.
The arts centre in Bracknell will lose £100,000 from its Arts Council grant in 2012-13, and will stop receiving funding in 2013-14.
However, the organisation will be able to apply for project funding from the Arts Council in future years.
The Regional Director of Arts Council England said they had been forced to make "extremely difficult decisions."
Sally Abbot said: "Some very good organisations have not been successful, and some strong applications have been turned down.
Serious consequences
"South Hill Park Arts Centre's application was assessed as meeting Arts Council goals, yet competition for National Portfolio funding was high. When balancing the portfolio in terms of art form and geography, other organisations were preferred."
Ron McAllister, chief exexcutive of South Hill Park, said the cuts had "serious consequences" for its future.
The organisation has been renovating its grounds after receiving a £2.3million grant from the Heritage Lottery Fund.
Mr McAllister said the organisation could potentially increase cash flow by hiring out its building for commercial work.
"We've got sculpture trails and nature trails, we will look to see if we can increase the amount of income," he said.
"But it's quite a dangerous situation to be in."
He rebuffed the suggestion that only white, privileged middle class people cared about the arts.
"If anybody wants to get involved on whatever level there is something to do here at South Hill Park," he said.
"Quite a lot of our catchment area isn't particularly privileged You can come do local band nights, get involved in comedy, find out about about website design, it's not just all about coming to see plays and shows."
The Norden Farm for the Arts in Maidenhead has also been informed that it will not be part of the new Arts Council portfolio.
The centre has been supported by the Arts Council since it opened in September 2000. It said the decision was a "serious disappointment".
Elsewhere in Berkshire, the Watermill Theatre in Newbury received an increase in funding from the Arts Council.
Artistic and executive director, Hedda Beeby, said: "I'm very very pleased.
"Everybody had to reapply for funding and decisions were taken on how the organisation fulfilled the aims of the Arts Council.
"I think the Arts Council has had a really really tough job and I think they've tried extremely hard to be open about how the process has worked."