New £1m Maidenhead Islamic centre plan submitted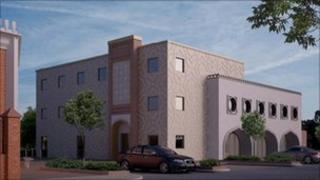 Plans for a £1m Islamic centre in Maidenhead in Berkshire have been submitted to the council.
The proposals would see the centre built on the former Citizens Advice Bureau site behind the current mosque.
The town's Islamic trust said it has outgrown the mosque, which was built in 1983, and needed a new centre with modern facilities.
People can comment on the plans until 20 April with Windsor and Maidenhead council set to decide in June.
Fazal Awan, from Maidenhead Islamic Trust, said: "About 300 people used to come for prayers, now there are 700 people.
"There are no other facilities in the mosque - we need somewhere with better facilities for the whole community."
The society said the three-storey centre has been designed to respect the height of other buildings in the area.