Maidenhead plans for 'Kings Triangle' unveiled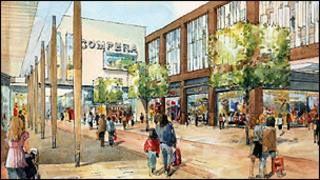 Proposals for a major redevelopment of Maidenhead town centre have been unveiled.
The plans are for the area between Queen Street and King Street to become Kings Triangle, which would include shopping streets, homes and offices.
Guy Parker, of ING Real Estate Development, said: "With Crossrail, this is an exciting time to be involved in Maidenhead."
Local residents are being invited to have their say.
Royal Borough of Windsor and Maidenhead Council, which is the majority landowner of the Kings Triangle site, signed the development agreement with ING Real Estate Development on 18 March.
The proposals form part of a pledge to develop the Berkshire town over the next 18 years by the council and the Partnership for the Rejuvenation of Maidenhead.
The Crossrail high-speed rail project will link Maidenhead to the West End, the City of London and Canary Wharf and is due for completion in 2017.
Public consultation on the Maidenhead proposals will take place this summer.
Find out more at www.kingstriangle.com