More than 150 swans killed during cold weather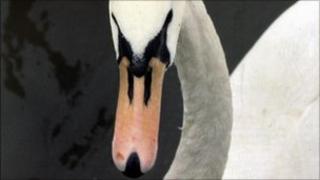 More than 150 swans have died in Berkshire following an infection made worse by the severe cold weather.
The mute swans have been found dead this year on the Thames at Windsor, Reading, Maidenhead and Newbury.
Eton-based Swan Lifeline said it was the first time it has seen deaths from necrotic enteritis (NE), a bacterial disease made worse by cold weather.
Wendy Hermon from the charity said: "It's just so sad, we're picking up swans we've known for years."
Post-mortem examinations carried out by Defra showed that the swans were infected by a range of diseases, including duck virus enteritis (DVE), a seasonal infection which normally occurs between March and June.
Mrs Hermon said a combination of NE and DVE had made the mortality rate worse.
"It's unbelievable," she said, "we'd go out finding three or four swans floating on the water.
"All the years I've worked here I've never seen anything like it. It's just so upsetting".