EDL mosque protest in Reading is branded 'hateful'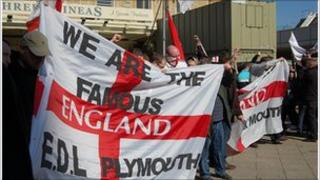 An English Defence League (EDL) protest in Reading over plans to build a new mosque in the town has been condemned for causing "hatred and division".
Up to 200 members of the EDL staged a peaceful protest in the town centre on Saturday afternoon, police said.
Councillor Andrew Cumpsty, leader of Reading Borough Council, said: "Hatred and division have no place in civilised political debate."
A team leader from the EDL told the BBC: "My message is no more mosques."
EDL members came from around the UK to demonstrate against plans submitted to Reading Borough Council to build a new mosque and community centre.
They were met by counter protesters but there was no violence and no arrests were made.
'Enough is enough'
The EDL spokesman said: "There are 12 Islamic centres in Reading and that's fine, within the Muslim community that's fine, but the trouble with the Muslim community is they don't want to interact with our ways and our laws and they start preaching their hate.
"Enough is enough."
But the three leaders on the political groups that make up Reading Borough Council condemned the demonstration as "racist".
Mr Cumpsty said: "We in Reading have excellent relations between our varied and vibrant communities. Hatred and division have no place in civilised political debate and I condemn the activities of this small minority.
"In Reading we celebrate all the varied parts of our town, as all together, we are all stronger and richer because of our diversity."
Peaceful protest
Ejaz Elahi, a member of Reading Council for Racial Equality, said: "Obviously the Muslim community is unhappy about it. They don't like to be picked on by people who don't even belong to Reading.
"We are in close contact with the police. We don't want to give them (the EDL) the opportunity for the publicity that they are seeking."
Supt Stuart Greenfield, of Thames Valley Police, confirmed the protest had remained peaceful.
"There were no arrests which is always a real indicator of the success of a policing operation. There was no need for overt police action. It was a watching brief for us pretty much throughout.
"It's a democracy, people have the right to peacefully protest - but that's the key, it's about peaceful protest. As soon as people step outside the boundaries of the law then of course we have to pitch our response appropriately."