Reading half marathon 2011 'will be biggest yet'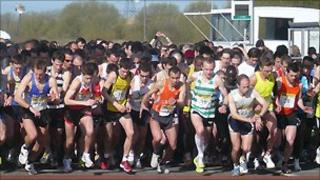 The Reading half marathon on Sunday is expected to be the biggest in its 28-year history, with 17,850 people running.
Race director Chris Sumner said that 8% of the "best runners in the country" had entered the event, the first leg of a new grand prix.
He said: "It's probably going to be the fastest half marathon we've ever had."
The 13.1-mile (22km) route is the second most popular in England. It may have 350 more runners this year.
The finishing line takes runners into Reading FC's Madejski stadium.
Mr Sumner said: "Most people that run the Reading half marathon are charity runners and fun runners, and they don't ever get to know what it feels like running into a stadium with 10,000 people cheering you on".
He added: "I've heard people talking about it, they say they burst into tears because it's so emotional".
Last year Edwin Kipyego from Kenya won the race in 63 minutes and three seconds.
Mr Sumner said: "This year we've got eight good level Kenyan runners, so it's going to be a good competition at the front".
The runbritain grand prix has five events of which the Reading half marathon is the first. Runners accumulate points and win cash prizes.
Information on road closures and a map of the route are available from the Reading half marathon website.