Parents take over Wokingham primary school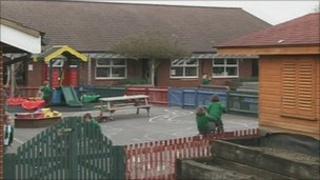 A private primary school in Berkshire is to be taken over by pupils' parents after they rejected the idea of it becoming a government free school.
Waverley School in Wokingham has been losing money and is at about half capacity with 75 pupils.
The charity trust which owns the school told parents the a way out was to apply for free school status.
But parents rejected the idea and voted to run the school despite it meaning a 10% fees rise to about £8,500 a year.
The increase is needed to balance the books while the school will also have to attract new pupils.
'Backward step'
Government free schools are semi-independent and are set up by groups including parents and charities.
The coalition says the programme will improve standards and choice.
But parents at Waverley said it would have in effect turned the private school into a state-funded school with fees having to be scrapped and an increase in class sizes.
Parent Blair Jenkins said: "No free schools exist at the moment so it would have been a step into the unknown.
"The second thing is that you are probably still looking at class sizes of 25 to 30, here at Waverley we have classes half that size.
"So for this group of parents we regard free schools as a backward step."
Neil McIntosh, CfBT Education Trust which owns the school, said: "We will assist the parents in the short term as we would have made losses anyway.
"We will give them the building rent-free and we will give them any support that they can reasonably expect."
The Department for Education said free schools will provide all children - not just the rich - the opportunity to go to a good school with great teaching, strong discipline and small class sizes.