Sit-in protesters storm West Berkshire Council chamber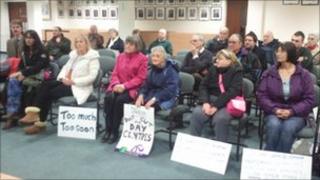 About 20 protesters have broken in to a council chamber to hold a sit-in demonstration over plans to close adult day care centres.
Five out of a total of nine centres in West Berkshire are due to close under planned budget cuts, three of which serve people with severe disabilities.
The move is part of £2.2m cuts to Adult Social Care services this year.
Conservative-run West Berkshire Council said it was a "lean" organisation managing "significant cuts" well.
The protesters said: "The message to the council is simple.
"If you close these facilities, we will seek to use the council offices as an alternative facility for providing somewhere for the service users to go."
Leader of the council, Councillor Graham Jones, said: "Across the country, councils are reorganising day centre provision, as people in receipt of personal budgets - an initiative introduced by the last government - choose different provision to that provided by their local authority. 
"Through personal budgets, people are able to access a range of services from local authorities, the voluntary sector and private provision - this is happening across the country irrespective of a council's party political control. ‬‪ ‬‪
"West Berkshire council is working closely with a number of new providers, such as the Newbury Community furniture project, to bring in new service provision.‬‪ "‬‪
He added that it was "the Labour Party, the organisers of this event, who allowed public spending to get so out of control that such deep cuts in public finances are necessary".