Reading bike-hire scheme plans proposed by council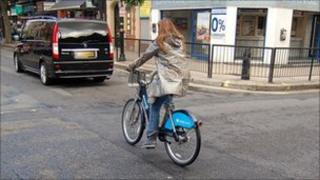 A bike-hire scheme which has proved popular on the streets of London and Paris could be launched in Reading if plans are given the green light.
Some 1,000 bicycles would be available at up to 150 docking stations across the town for cyclists to use.
Docking stations would be located at sites such as Reading station, the university and local business parks.
The Conservative-Liberal Democrat-run council said the scheme would be funded by the government and sponsorship.
Councillors will meet on Monday to discuss drawing up a business case.
Health benefits
Although currently at the early-planning stage, cyclists could be offered the first half an hour free before a charge is incurred.
It could be extended to parts of Woodley and Earley in what the council said would become the largest cycle-docking service outside London.
The council said it could increase cycling across the town by about 10,000 additional trips per day.
Councillor Richard Willis, who oversees council transport and planning, said to date the response had been "very supportive".
"There are substantial health benefits from regular cycling and if we can persuade people regularly to use a bicycle rather than their car there could be the benefits of reduced congestion and pollution," he said.
"If this is approved by the cabinet then we will begin the process of obtaining the necessary financial support to make the scheme deliverable, consulting the public on the detail of docking station locations, and investigating possible operators of such a large scheme."
Reading currently hosts a smaller scale cycle-hire scheme operated by OYBike which was launched in 2008.
Registered users pay £10 a year to obtain release and lock codes from the company, which backs the new plans.
Spokeswoman Deborah Kingsley said: "The fact that it's still there is a testament to it.
"Anything that offers people an alternative mode of transport can only be a good thing."