Great Escape pilot's Spitfire memories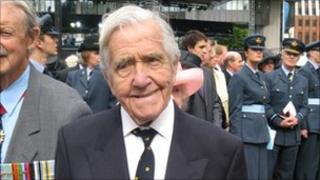 A Spitfire pilot and his daughter have spoken about how he was shot down and incarcerated during World War II.
The 75th anniversary of the first flight of the Spitfire is on 5 March, 2011.
Nigel Drever, who lives in Reading, was a pilot in the Battle of Britain but spent much of war interred with prisoners planning the Great Escape.
He also survived the sinking of the Lancastria and the infamous Long March at the end of the war.
Mr Drever was forced to march from Poland to Germany in freezing conditions in January 1945, as the retreating German army force-marched thousands of prisoners of war, resulting in the deaths of 200 men.
His daughter Clair Drever said her father was flying his Spitfire early in World War II when he was brought down by enemy fire.
"He was shot down by the Messerschmits," she said. "He landed on a tree and then was frogmarched over by the Germans to the local Gestapo officer.
"He didn't like the way they treated him. They paraded him around because they were so pleased they had captured him."
Speaking about his crash landing, Mr Drever told BBC Radio Berkshire: "I knew I'd had it.
"I landed in a great big tree."
Mr Drever said he was never scared while flying in the Battle of Britain.
"You're not scared," he said. "You don't have time for that nonsense. You're going like hell and you don't have time to start thinking anything like that.
"The aircraft became part of your body. It's a lovely aircraft."
Mr Drever was taken to the Stalag Luft III prisoner of war camp on the Polish border and about 100 miles south east of Berlin.
It later became known for the Great Escape, in which 76 Allied prisoners tunnelled out of the camp in 1944.
Following the war, the daring attempt was immortalised in a film starring Steve McQueen, Sir Richard Attenborough and James Coburn.
The prisoners drew lots to decide who would try to escape, and Mr Drever was unsuccessful.
However, he helped dig the tunnel which aided the escape. Of the 76 men who left the camp, only three made it to freedom.
Adolf Hitler personally ordered the execution of 50 of the escapees in order to deter other prisoners of war from doing the same.
"All of us were working on ways of getting out," said Mr Drever.
"I was there for four years. You're just thinking about how to get out and see a few women."