'I slit my wrists because I was cyber-bullied'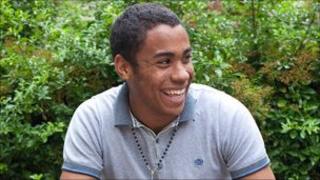 "You should go and kill yourself because you don't mean anything to anyone."
When 14-year-old Carney Bonner read this Facebook message he was so distressed that he began to self-harm.
The cyber-bullying continued for a year.
"Things would have got a lot worse if one of my friends hadn't seen my wrists," he said.
Now 17 and a 'cyber mentor', he welcomes a Thames Valley Police (TVP) pilot scheme in Reading to target bullying on Facebook.
Carney started receiving abusive messages on Facebook by a bully who he believes created an account under a false name.
The bullying began with messages such as "you're nothing" and "no-one cares about you".
But Carney, who described himself as "loud" and "always outgoing", was initially unfazed.
"At first I thought it was a joke," he said. "As a teenager you just shrug it off your shoulders and carry on."
But then the messages became more abusive.
"It started eating into my self-confidence, it all started going downhill," he said.
When he read the message stating that he should kill himself he finally broke.
"I started to cut my wrists. It got to the point where it was from my wrists up to most of my arm."
One of his friends saw his wrist injuries and took him to the school counsellor, who helped him overcome the bullying.
"It was like learning to walk again," said Carney.
"I had to work towards being myself again."
Carney eventually found out who the bully was and confronted him six months ago. He turned out to be someone Carney had regarded as a friend.
He has now recently qualified as a 'cyber mentor' for charity Beatbullying and helps other victims of cyber-bullying.
Carney said he hoped the police pilot scheme will bring down the amount of online bullying.
The scheme comes after TVP officers recorded 800 cyber-bullying incidents in the last three months of 2010 alone.
Carney, also a Youth MP for Swindon, said the high number of cases was no longer remarkable.
"If you'd asked me a year ago I'd have said 'yes that surprises me'.
"But now with how technology is going, how every single teenager has the internet at their fingers, you can see how cyber-bullying has taken over physical bullying."
During the pilot all cases of cyber-bullying flagged by a school or parent to an officer will be investigated.
Police will send the bully a message warning them they could be breaking the law if they continue.
In addition, the bully's parents are sent a letter informing them what their child has been doing and the potential consequences of their actions.
Click here to view the cyber mentors website.