Man guilty of Maidenhead arson attack murder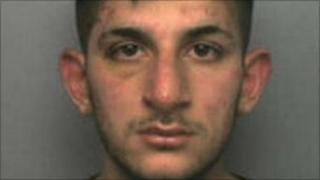 A man has been found guilty of murdering a woman who died in an arson attack in Berkshire.
Saimah Ali, 23, was trapped and died in the blaze in Moor Lane, Maidenhead, in June last year.
Amaar Najib, 20, of Slough, was found guilty of murder and arson with intent to endanger life.
Navera Ahmed, 18, of Slough, was cleared of murder. Verdicts are yet to be returned against her boyfriend Kanwarpal Singh, 18.
Najib, of Wexford Road, was found not guilty of attempted murder while two alternative charges of manslaughter and arson being reckless as to whether life is endangered were dismissed.
'No motive'
The jury at Reading Crown Court has previously heard that fifteen other people, including eight children, were in the property in Moor Lane at the time of the fire but most escaped unharmed.
Six litres of petrol had been poured on to the front door of the house and set alight on 25 June, the court heard.
Ms Ali, who had been sleeping in a bedroom at the top of the building, was trapped and could not be reached by firefighters.
She had been the first to alert emergency services to the fire.
The court previously heard there was no clear motive for the killing.
It was alleged Najib started the fire, with Miss Ahmed and Mr Singh being involved.
None of them denied being at the scene, but Najib and Mr Singh have blamed each other. All three have said they had no idea the petrol was going to be used to start a house fire.
Miss Ahmed, of Rochfords Gardens, was also cleared of attempted murder, manslaughter and arson.
Her boyfriend Mr Singh, also of Rochfords Gardens, faces five charges, including murder.