Slough High Street rising bollard 'struck 19 times'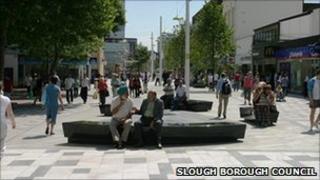 A rising bollard installed to stop motorists using a Berkshire street as a rat run has been struck 19 times.
Slough Borough Council has now put a large red sign at the end of the town's High Street where the bollard was installed in December.
It became jammed in the upright position for two days after being hit four times on Saturday.
Diversions had to be put in place until it could be forced down again on Monday.
Vehicles other than buses, taxis and disabled blue badge holders are not allowed to use the street.
Nick Healey, of the council's road network management team, said: "There are now several permanent and temporary signs in the area warning people of the bollard and also a loud audible warning which plays each time the bollard operates.
"Because of the number of vehicles which had struck the bollard, we put in another sign last week, which can easily be seen even if there is a bus in front, telling people to wait for the green light before proceeding.
"Despite this people are still trying to get down this section of the High Street by tailgating buses and taxis and unfortunately the latest vehicle, due to its weight, has done some serious damage.
"We fully intend to have the bollard operational again as soon as possible, and would reiterate our warnings to people not to try and come down that section of the High Street unless they are authorised to do so."