Father of boiler death woman in carbon monoxide plea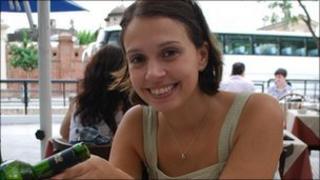 The father of a woman who drowned in a bath after breathing in carbon monoxide from a leaking boiler has urged people to learn lessons from her death.
Katie Haines, 31, was found by her husband, Richard, at their home in Wokingham, Berkshire, in February 2010.
At an inquest on Tuesday, coroner Peter Bedford said the system of assessing boilers should be changed.
After the hearing, Mrs Haines' father, Gordon Samuels, urged people to use carbon monoxide detectors.
Mrs Haines, a former journalist who worked as a press officer at Oxford University, had been married for two months when she died.
'It's lethal'
At the inquest in Reading, the court heard how a British Gas engineer had certified the couple's boiler "at risk" three months earlier, after carrying out an inspection and expressing concerns over ventilation.
In his evidence, Mrs Haines' husband said the idea it could be dangerous was not impressed upon him.
Berkshire coroner Peter Bedford recorded a narrative verdict calling for the system of categorising boilers to be changed.
He said the potential danger was with the "at risk" category, adding he planned to recommend that if there was any issue with any gas appliance, it should be condemned outright.
Mr Samuels urged people to be more aware of the dangers, adding carbon monoxide alarms should be as common as smoke alarms.
He said: "This could have been prevented if alarms were as ubiquitous as fire alarms are in your own homes.
"You cannot smell it, you cannot taste it, you can't see it, it is lighter then air, it's lethal - and it can kill you in two minutes."