Danger unclear in Wokingham boiler death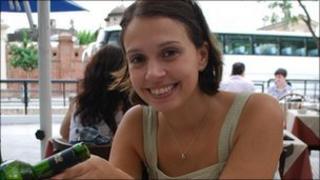 A coroner has criticised the way the safety of gas appliances is categorised following the death of a Berkshire woman.
Katherine Haines, 31, of Wokingham, had been married two months when she drowned in the bath after breathing carbon monoxide from a leaking boiler.
The inquest in Reading heard how a gas engineer had certified the boiler "at risk" three months earlier.
Coroner Peter Bedford said the system of assessing boilers should be changed.
Mrs Haines was a former journalist, who worked as a press officer at Oxford University.
The inquest heard that Matthew Hopkins, a British Gas engineer, had inspected the boiler and expressed concerns over ventilation.
'No middle ground'
In his evidence, Mrs Haines' husband, Richard, said the idea it could be dangerous was not impressed upon him.
Berkshire coroner Peter Bedford recorded a narrative verdict calling for the system of categorising boilers to be changed.
He said the potential danger was with the at risk category. He planned to recommend that if there was any issue with any gas appliance, it should be condemned outright.
He said: "If the engineer had been able to do just that, then Katherine would still be alive today."
After the hearing Mr Haines said: "This has been a long and difficult year for all our family and friends and we recognise that nothing will bring our beautiful Katie back.
"We are in total agreement that there should be no grey areas - a boiler should either be safe or unsafe and, if unsafe, it should be immediately shut down - no middle ground."