Reading council paid £1.4m to union reps, MP claims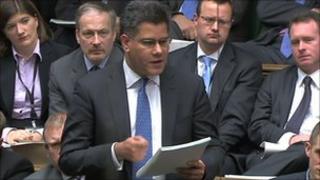 An MP has criticised councillors for using taxpayers' money to pay the full-time salaries of union officials.
Alok Sharma claimed £1.4m had been paid secretly by the previous Labour-led Reading Borough Council over 12 years.
Mr Sharma, Conservative MP for Reading West, made the accusations during Prime Minister's Questions - criticism which was backed by the prime minister.
Labour dismissed the claim as "ridiculous" saying all good employers should support union representatives.
Reading Borough Council was taken over by a Conservative-Liberal Democrat coalition at the last election.
Although the representatives for the National Union of Teachers (NUT), Unison and Unite were still employees of the council, their salaries were paid for by the taxpayer.
'More disruptive'
Mr Sharma told the House of Commons he believed it was an "inappropriate" use of taxpayers' money and that full-time union officials should be funded through subscriptions to unions.
David Cameron replied: "It's nice work if you can get it."
Mr Sharma told the BBC: "£1.4m is a huge amount of money at a time when councils are having to make difficult choices, trying to protect front-line services."
Labour councillor Jo Lovelock said there had been a long-standing arrangement between councils and trade unions to second staff to work with management and to represent members.
"Councils of all persuasions have this arrangement and if it wasn't in place then members of staff who are trade unionists would have to be given ad-hoc time off, which would be more disruptive to the service they are providing," she added.