Volunteers plant new Berkshire woodland of 3,000 trees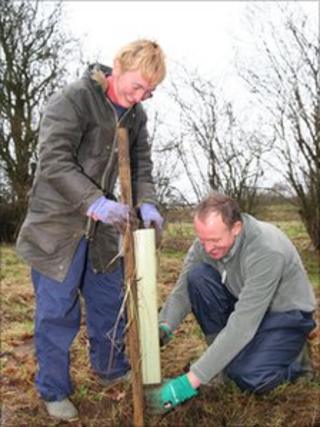 A new woodland of 3,000 trees has been planted by volunteers in Berkshire.
The project at Moor Copse Nature Reserve in Pangbourne aims to create more habitats for insects, including butterflies and birds.
The two-year-old trees have been grown at a nursery in Oxfordshire by the Berkshire, Buckinghamshire and Oxfordshire Wildlife Trust.
The organisation, which relies on donations, manages 80 nature reserves across the three counties.
Wendy Tobitt, from the trust, said the trees will extend its woodland on the site and will benefit a range of insects and animals, especially butterflies.
All the trees have been locally grown and include ash, oak and wild cherry with hazel, holly and hawthorn.