Reading mosque St George's flag protest case dismissed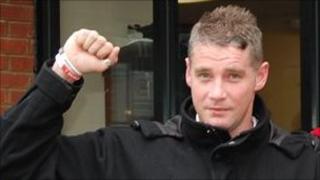 A man who waved a St George's flag outside an unbuilt mosque and shouted "EDL" and "England" has had the case against him thrown out.
Ronald Peterson said he was protesting about planning issues over the construction of the mosque in Oxford Road, Reading, on 30 May 2010.
District judge Andrew Vickers dismissed two public order charges. He said Mr Peterson had a right to free speech.
Mr Peterson, 37, from Tilehurst, said he was "over the moon".
The judge said the words were not threatening, abusive or insulting.
Mr Peterson said he was trying to highlight concerns about how planning permission was granted to the mosque, the length of time it was taking to construct and worries over how it was being funded.
'Religiously aggravated'
Speaking outside court, he said of the prosecution: "It shouldn't have ever happened in the first place.
"It was a lawful protest that I was doing, with a genuine concern.
"I made all my views at the time clear to the police when they turned up and all I had was my St George's flag and chanting 'England' and 'EDL'."
Police were called to the scene by two Muslim men, the court heard.
They told officers they were concerned by the protest as prayers were about to start at a nearby mosque and they believed an English Defence League (EDL) demonstration was about to take place.
Mr Peterson, of Elvaston Way, was charged with two public offences, including a "religiously aggravated" offence.
In a statement, Nina Maisuria from the Crown Prosecution Service, said: "When we looked at the evidence provided by the police, we were satisfied there was sufficient evidence for a realistic prospect of conviction."