Berkshire's stroke after-care services 'among worst'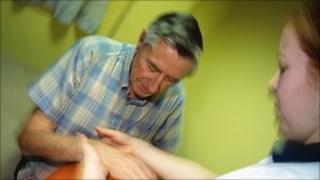 Stroke after-care in Berkshire has been ranked as among the worst in England by a health watchdog.
The Care Quality Commission (CQC) assessed 151 primary care trust (PCT) areas across England for care provided by both the NHS and social services.
The Berkshire East PCT area ranked at 148 out of 151 trusts, and the Berkshire West PCT area at 127.
Both trusts said they were committed to the highest levels of stroke care and were working to improve services.
The report by the CQC, which grades health services across England, looked at services to help patients with everything from moving to talking.
They were ranked on several indicators, such as "end of life care" and "meeting individuals' needs".
'Need to improve'
The CQC rated performance across England from "least well" to "best".
Services in both east and west Berkshire were scored as performing "least well".
Berkshire East PCT said in a statement: "Stroke services have been a particular priority for some time and we are confident that if a further survey were carried out today our scores would be much better.
"We do listen to our patients. A good example is the forthcoming 'Have your say event' in Windsor on 10 February where people recovering from a stroke and their carers will have the chance to help shape future services."
Berkshire West PCT said in a statement: "We know there are areas we need to improve, such as how we support and review patients once they are discharged from hospital and the information that we provide for patients and carers.
"We have been working with patients, our colleagues in local authorities, and voluntary sector partners, to develop a comprehensive range of accessible information about stroke for patients and their carers.
"This information project will be completed in March 2011."
It said it was also working with Reading and Wokingham local authorities.