CCTV appeal over Bicester hospital car park sex attack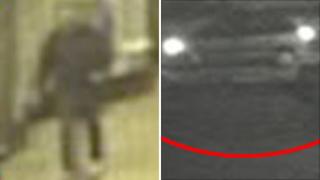 Two CCTV images have been released after a woman was sexually assaulted in a hospital car park in Oxfordshire.
The victim, who is in her 20s, was attacked by a man at Bicester Community Hospital in Kings End on 27 November.
She managed to fight off the man, who police said smelt of alcohol, and he fled towards a cemetery.
Officers want to trace a man seen walking behind the victim and a car seen in Coker Close which may have disturbed the attacker.
Det Sgt Craig Kirby, of Thames Valley Police, said: "The investigation into the sexual assault continues and I have a team of detectives working on the case to identify the person responsible.
"We continue to carry out house-to-house inquiries and have delivered flyers asking people with information to come forward."
Officers described the attacker as white, in his mid 20s to early 30s, 5ft 10in to 6ft, and of heavy build.
He was wearing a dark brown hat and black jeans.