Reading eco-friendly buses are unveiled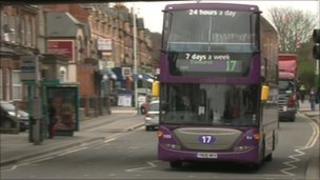 The first of a new fleet of 30 eco-friendly buses set to hit the roads of Berkshire have been unveiled.
The double deckers cost £300,000, but the government has paid £108,000 towards fitting the hybrid system.
The first six Reading-routed buses hit the roads next week with the rest of the fleet to be in service by 2012.
The introduction of the fleet, which will save about 25% in fuel costs, follows an unsuccessful scheme in 2009 using bio-ethanol fuel.
Hybrid buses are powered by a mix of an ordinary diesel engine and an electric motor.
They use regenerative braking, generating electrical energy when the brakes are pressed which is stored in a battery pack and used to drive the electric motor.
Reading Transport said the fuel savings are such that payback is achieved in about 12 years.
James Freeman, chief executive officer, said: "We will get the benefit of an excellent driver's bus as well as substantial fuel savings which we hope will be as much as 25%."