Berkshire and Oxfordshire set for electric trains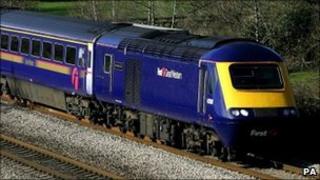 Commuters in Oxfordshire and Berkshire are set to benefit from new electric trains by 2016.
The lines between London and Didcot and Newbury and Oxford will be electrified and use existing Thameslink trains.
But plans to electrify the rest of the Great Western line have been put on hold by the Department for Transport.
The government said it was still deciding on what type of trains would replace the intercity diesel fleet between London and Swansea.
Slough Labour MP Fiona Mactaggart warned that passengers would still have to suffer overcrowding before the electric services were up and running.
'Cattle trucks'
She added: "We are not going to get new carriages on our lines, we are not going to get improved services, we are not going to get more frequent services.
"We have the demand for it, we're very overcrowded and unless we get this investment soon we've got a problem.
"It will mean that for a number of years passengers in this area are still going to be bunged in like cattle into trucks."
But Transport Minister Norman Baker said the area would start to benefit from more carriages when the electrification of the lines between London and Didcot and Newbury and Oxford was completed over the next six years.
He added: "We will see some of the carriages from Thameslink which will increase capacity in this area, which is very important.
"People tell us they are concerned about overcrowding, we are trying to deal with that and with real carriages - not the kind of fictional carriages the previous government had."
The department also announced that 600 new carriages would be built for the Crossrail programme, which will link Maidenhead in Berkshire to Shenfield in Essex through London.
The project is due to be completed in 2018.