Nuclear warhead workers in Berkshire protest over pay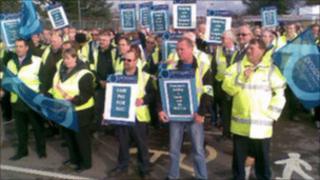 Staff at the company that provides warheads for Trident, the UK's nuclear weapons system, are to walk out for the first time in a row over pay.
Earlier a protest took place at Atomic Weapons Establishment (AWE) sites in Aldermaston and Burghfield, Berkshire.
It is believed the protest at lunchtime was the first industrial action taken by workers in the company's 50-year history.
The Prospect union said members would go on strike on Wednesday, 1 December.
More than 1,000 union members are expected to take part after being offered a pay rise of less than 2%.
'Poor pay settlement'
The union represents 1,300 of the 4,000 people who work at the site.
AWE said it was the best offer possible in the current economic climate.
The union said the current pay offer did not reflect the success of the company.
It said workers were angry over the increased payments to the AWE board and level of dividends being paid to its controlling companies.
Prospect's negotiations officer Bob King said: "Members have had poor pay settlements imposed on them, seen an ongoing increase to their pension costs and faced redundancies, yet still maintain the very high standards expected at the organisation.
"We cannot emphasise enough the need to resolve this issue as soon as possible."
He added: "Our members do not want to be engaged in industrial action, they want to do their jobs, but they need to do so in the knowledge that their employer will treat them fairly.
"We remain willing to meet with AWE at any time to reach a conclusion that will benefit all parties."