Slough foster carers' pay cut by £10,000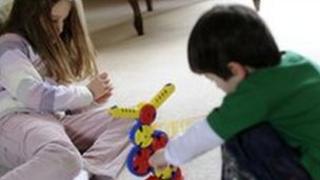 Foster carers in Slough are to have their pay cut by more than £10,000 for the first child they care for.
Many carers say they will now have to give up fostering, which could lead to a shortage in foster homes.
Money for their first child is being halved to £200 a week. The current rate for subsequent children will stay at £200.
Councillors agreed the plan on Monday night but will not implement it until after a further meeting in November.
The council said that even after the decrease the pay was still "generous".
Foster carers currently receive £400 per week for the first child they care for and a weekly additional maintenance payment of about £125 - totalling more than £27,000 a year.
Under the new pay deal, carers will receive £200 per week alongside the usual maintenance payment - totalling just under £17,000.
Zareen Keeton said: "I am not sure if I am in a position to be able to carry on fostering.
"I am going to see how the cuts affect me and then I will make a decision, which is really sad for the young boy which I have had for five years."
The council said Slough foster carers were still paid more than many of their counterparts in Berkshire and the rest of the country.
But Mrs Keeton said carers did not get allowances for things such as petrol and clothes, which other councils offer.
Councillor James Swindlehurst, deputy leader of the Labour-controlled Slough council, said: "Part of the reason for the very generous allowance which we paid was that a condition that they could not seek employment at the same time as fostering, but we have now lifted that cap.
"We are still recruiting a number of new carers even on the reduced rate."