Zimbabwean soldier becomes British for Afghanistan tour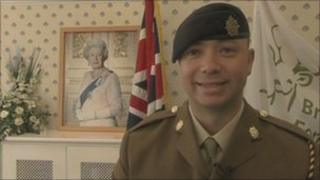 A Zimbabwean soldier has become a British citizen so he can join his Army colleagues on active service in Afghanistan.
L/Cpl Hagen Francis, 28, came to the UK in 2003 and joined the Army in 2005.
He wanted to volunteer for active service but said he could not go abroad because his Zimbabwean passport had run out and would take 18 months to renew.
He was made a British citizen at a ceremony at Easthampstead Park Conference Centre near Bracknell.
Mr Francis currently works at the headquarters of the Defence College of Logistics and Personnel Administration at Deepcut, in Surrey.
'Good life'
The Deputy Lieutenant of Berkshire, Gordon Storey, was attending the ceremony along with the mayor and mayoress of Bracknell Forest.
Mr Francis was eligible to join the British Army because Zimbabwe is a former member of the Commonwealth.
He said: "My dad was in the Rhodesian forces and I thought it would be a good life for me.
"I served for a while with a medevac squad in Kosovo. I wanted to volunteer for active service in Afghanistan but my Zimbabwean passport ran out so I couldn't travel abroad and I was told by the embassy that it could take 18 months to renew.
"I've been here for a long time so it made sense to apply for British citizenship, get my passport and be able to go out to Afghanistan with my comrades. I feel lucky that I have been given this opportunity."