Slough revamp shown as it happens on new website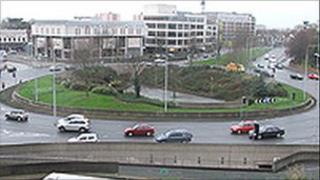 People interested in Slough's £450m redevelopment can now follow it as it happens on a new website.
The Heart of Slough project includes 1,500 new homes, offices, a revised road layout and a new library.
A replacement for the Brunel Way bus station, made famous in the opening credits of the BBC TV comedy The Office, is already under construction.
The website includes a time-lapse film of it being built with a picture being taken every 10 minutes.
The Heart of Slough website is run by the council.
Plans to transform the 29 acres (11.7 hectares) of the town took 10 years of planning.
Slough borough councillor James Swindlehurst said: "For anybody interested in the future of our town, this website is the online place to go.
"It will be regularly updated with news and images and you can get involved with the project by joining consultation groups and posting your comments in the special notice board section."
Earlier this month the new library and a cultural centre received planning approval.
The transport infrastructure of the town will also be revised under the plans.