Protest planned over Royal Berkshire Hospital job cuts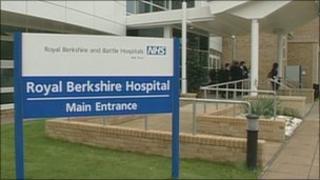 A demonstration at the loss of up to 600 jobs at Reading's Royal Berkshire Hospital (RBH) is to take place.
The protest is planned for Saturday at 1400 BST by the Reading Shop Stewards Network (RSSN).
However, the hospital said that the group had not been in touch with its trade union representatives, and did not speak on behalf of RBH workforce.
It said the trust board and the local trade unions were working together in a "constructive and co-operative manner."
A spokesman from Royal Berkshire NHS Trust said: "Given the good working relationships at the hospital, neither party thinks that the interests of patients and staff members will be advanced by a demonstration."
The hospital's chief executive Edward Donald has said that cutting 600 jobs by 2015 will save the hospital £60m.
Jobs are to be cut in human resources, IT, facilities and backroom roles, according to a hospital spokesman.
Tom Ramplin, from RSSN, said: "Despite management arguing that this will focus on admin and IT staff, it is clear that these cuts will significantly affect the service provided as well as making yet more people unemployed."
With some 4,000 staff, the hospital is Reading's biggest employer.