Work to start on Reading homes built on chalk mines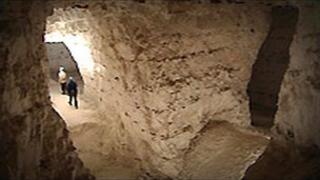 A £4.3m project will begin next year to stabilise homes in Reading built on a network of 30 abandoned chalk mines.
Land underneath more than 50 properties in the Field Road and Coley area will be investigated and work will be carried out if it is deemed necessary.
Work has been done in phases since a major collapse in 2000 left residents of 30 homes temporarily homeless.
The work is being funded by the Homes and Communities Agency (HCA) following a bid by Reading Borough Council.
Richard Willis, lead councillor for transport and planning at the council, said: "This is vital work for the residents affected in Field Road and Coley District.
"The extent of the danger posed by these old chalk mines is still not fully understood."
Ground collapsed
Most of the mines were dug in the 19th and 18th Centuries, alongside the town's brickworks, to provide chalk to improve the quality of bricks.
As there was no law requiring abandoned mines to be registered, they were soon forgotten about as homes were built above ground.
Until the late 1970s only one was known about, as it had been used by the council for storing documents during the Second World War.
In 1977, a second mine was found under a building site in Emmer Green when a bulldozer uncovered the top of a 60ft-deep (18ft) ventilation shaft.
In 1982 a sizeable collapse happened in front of homes in nearby Grove Hill and, over the years, subsidence and minor collapses across the town suggested there were more mines to be found.
In January 2000, 30 houses in Field Road had to be evacuated after a cave-in, which kept some residents away from their homes for up to two years.
Ground investigation works, subterranean probes, historical research and evidence of subsidence have since been used to identify the location of further mines.
The work will begin in January 2011 and is estimated to take about a year to complete.
The council warned residents to expect "some disruption" as heavy plant machinery would be needed to carry out some of the work.
Temporary parking arrangements and road closures may be necessary, depending on what work is needed, it said.
Residents have been invited to a public meeting on 14 September where they can meet the engineers on the project and ask questions.