Slough foster carers' fees cut by half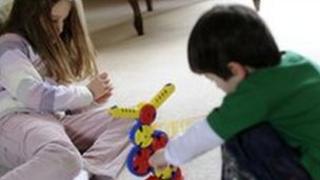 Foster carers in Berkshire are facing a 50% pay cut in the money they receive for the first child they care for.
Many foster carers in Slough say they will now have to give up fostering, which could lead to a shortage in foster homes.
Money paid to carers for their first child is being halved to £200. The current rate for subsequent children will stay at £200.
The council said that even after the decrease the pay is still "generous".
The number of fostered children in Slough has risen over the last twelve months - from 137 in August 2009 to 181 in August 2010.
The council said Slough foster carers are still paid more than many of their counterparts in Berkshire and the rest of the country.
Carers said they were told about the changes, due to be introduced on 22 September, at beginning of summer holidays.
They have set up a group on Facebook to try to challenge the wage cuts.
Zareen Keeton, who fosters two children at the moment, said: "You can't really compare the other local authorities and what they get for their fees unless you really look at their other enhanced packages, the other allowances that they get.
"Otherwise it's like comparing apples with pears."
She said foster carers in Slough do not get allowances for things such as petrol and clothes, which other councils offer.
Council spending cuts
Mrs Keeton said she had done a poll of 40 other carers and of them 75% had told her they would need to get a different job, or move to a private agency.
Clair Pyper, director of education and children's services at Slough Borough Council, said: "Yes, we are planning to reduce the rates. It's part of the council's overall spending [cuts].
"I do want to say though how much we appreciate the work that foster carers do. They are volunteers.
"Foster carers do get paid different rates right across the country. Some get no fee at all and just do it based on the maintenance allowance for children.
"I understand it represents a drop in income for foster carers but it isn't a salary, it's a fee that we pay in recognition of what they do."
Allowances to cover all the costs of caring for the child, such as food, will remain unchanged.