New Slough 'baby boom' school set to open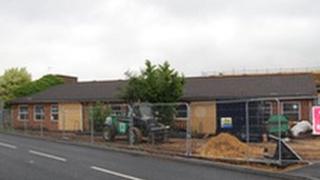 A new £4.35m school is set to open in Slough after a baby boom left a crisis for education places.
The new Willow primary facility was created by revamping an old building on the former Old Lea Junior School site.
It took six months to complete and will cater for 480 pupils when it opens on 13 September.
The council said it was forced to act after a rising birth rate over the past six years led to a shortage in places for children starting education.
A spokeswoman said people attracted by cheaper house prices were moving to the town from wealthier areas while the borough had also seen many immigrants arrive in recent years.
The Lea Junior School's old buildings were due to be demolished after it closed in 2007.
Now, they have been refurbished to create two new classrooms.
Clair Pyper, director of education and children's services at the council, said: "The shortage of primary school places was acute in Slough and we needed more places than extra classrooms could provide.
"Parents have been very understanding and we hope the children don't mind having an extra week's holiday so we can make sure it is perfect for their arrival."
The authority has also added 10 extra classrooms to schools across the town.