Slough tower blocks get security guards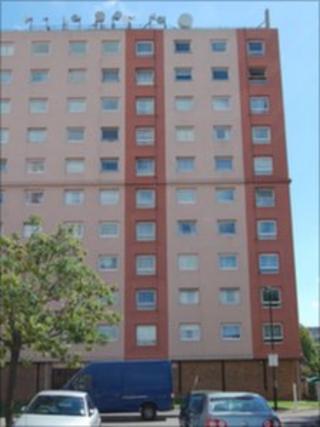 Two tower blocks in Berkshire are set to get night-time security guards to tackle anti-social behaviour.
Slough council said there was a problem with non-residents entering the Tower and Ashbourne Houses in Chalvey at night causing a nuisance to residents.
A doorman will be guarding each of the entrances through the evenings and overnights on Thursdays, Fridays, Saturdays and Sundays from 2 September.
They will challenge all non-residents to ask who they are visiting.
If they are not there to visit anyone, they will not be allowed to enter the 10-storey blocks of flats.
All residents of the blocks have been asked to provide up-to-date phone numbers so the concierge can call them if necessary and they have been given contact details for the security guards.
The service will also include inspections of the blocks and general security.
'Effective solution'
Naila Tufail, anti-social behaviour officer for Slough Borough Council's housing service, said: "We have had several incidences of people getting into the blocks and being anti-social.
"It is only a pilot project at this stage but we will be monitoring the scheme closely and keeping in regular contact with the tenants to see how they feel about it."
Councillor James Swindlehurst said: "These concierges are a new plan of attack by the housing service to see if we can improve security for our tenants.
"I will be following the progress of the pilot to see if it will be an effective solution to these problems that we can roll out to other areas.
"It is unfair when residents who play by the rules are disturbed by anti-social behaviour."