Reported crime up from last year at Reading Festival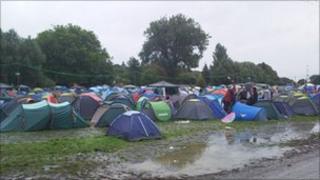 The number of reported crimes at the Reading Festival are so far up by about 20% compared to last year, Thames Valley Police have said.
They said that up until midday on Saturday, 28 people had been arrested and 190 crimes reported.
At the same time last year there had been 150 crimes reported. However, robberies are down from 17 to three.
Thefts from tents represented the largest number of crimes, followed by pick-pocketing and cannabis possession.
Ch Insp Les Stone said: "The main problem continues to be the number of thefts from tents that we are experiencing.
"Virtually all of these thefts are taking place at night, so it is really important that people take care of their valuables when they are away from their tents and sleep with them in their sleeping bags.
"The robberies that we have had have taken place away from the festival site and we recommend that festival-goers travel in groups when they leave the site."