Newbury Racecourse hosts gaming festival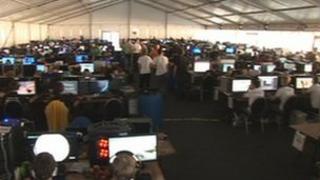 More than 3,000 computer games enthusiasts have taken over Newbury Racecourse in Berkshire for the UK's largest gaming festival this weekend.
More than 20km of cable was brought in for the four-day Multiplay event, which began on Friday, and about 1,000 people have brought their own computers.
Players will be vying for a place at the World Cyber Games in Los Angeles in September and a £30,000 prize.
Competitors are spread throughout the grandstands and private boxes.
Many of them are camping on-site throughout the weekend.
The World Cyber Games grand finals will be held in Los Angeles from 30 September until 3 October.
Craig Fletcher, organiser, said: "Some people come here just to play games casually, they're here just to enjoy themselves.
"But you also have people who literally fly just for the prize tournaments, they're here to win the money. We have £30,000 worth up for grabs here of prize money.
"We've got teams from all over Europe who've flown in, we've got from the US flown in just to play in the professional tournaments."