Protest against M4 wind turbines at Rushey Mead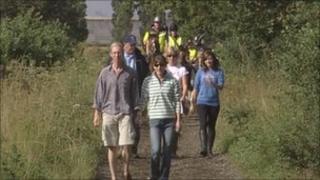 Up to 100 residents have held a protest against plans to build four wind turbines in a field next to the M4 in Berkshire.
Walkers, horse riders, cyclists and runners joined the march along the byway at Rushey Mead, Reading.
It was organised by Harm (Householders Against Rushey Mead).
Reading university, which owns the land and is developing the plans with an energy firm, said they would generate electricity for thousands of homes.
Harm said it has renamed the byway next to the site "Harm's Way".
Organiser Jan Heard said: "I've challenged the representative Partnership for Renewables (firm behind the plan) to tell us they're safe, give us some evidence they're safe, and he wasn't able to do that.
"In a lot of places in the world a lot of people have had issues with the noise, there are ideas that they can cause sleep deprivation."
Revised plans
Partnerships for Renewables said it had had a mast on the site for two years to monitor wind levels and had also carried out noise monitoring in residents' back gardens.
Originally the plans included up to five turbines but the firm said that had been revised to four with a blade tip height of 130m (427ft).
Tony Duffin, from Partnerships for Renewables, said: "Since starting our investigations in February 2008 we have been working hard to incorporate the results of environmental, technical and consultation work into the design of any potential future development.
"Results of the detailed wind modelling work have shown that one of the turbines was likely to experience turbulence from the others making it less efficient than the other machines.
"Recently we therefore took the decision to remove it from our plans.
"This has also enabled us to increase the distance between a local byway used by horse riders and the nearest turbine."
A public consultation is under way and exhibitions will be held next week in Lower Earley and Arborfield.
A planning application is due to be submitted to Wokingham Borough Council in the autumn.