Work extension to start new Reading stadium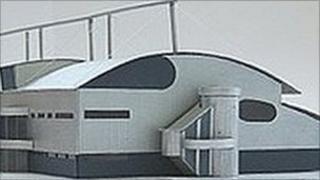 Developers hoping to build a new race track and casino in Reading have been given an extension to start work.
Approval for the stadium, which will house the Reading Racers speedway team and a greyhound track, in 2007.
The Smallmead track was demolished in 2008 but the "Racino" plan, due to be ready this year, has stalled.
Developers Gaming International should have started work by June but now has until March to start building with fans hoping speedway can return in 2012.
The Racino, an American term for a casino and racing track, will be accompanied by a 538-space car park and free-standing kennels.
The Smallmead track at Island Road off the A33 has been home to the Reading speedway team since 1975.
'Fully committed'
Malcolm Holloway, former promoter of the Reading Racers, said: "It has taken a long time, reason being as I understand is that the people putting the money up for the stadium wanted it turned so they had to redo all the planning and things like that.
"But I did manage to get hold of one of the interested parties and he said it should all be up and running for the 2012 season.
"I do feel sorry for Reading people but the fans are still here, they are always asking me what is happening and how long it will be."
Gaming International declined to comment about the extension.
Reading Borough Council said: "[Our] position has always been that we remain fully committed to the delivery of a new stadium to host top class speedway and greyhound racing in Reading, and that remains the case."
The authority said the extension will allow Gaming International to meet a number of conditions necessary before construction starts.